Mrs. Jeannine Pilon
Birth date: February 14, 1938
Date of death: June 7, 2022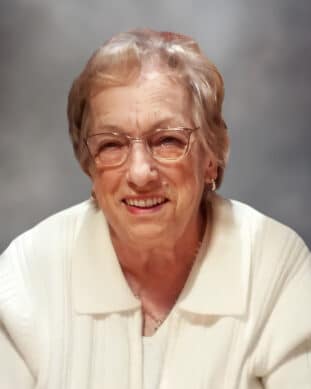 Obituary
(Nee Meloche)
Of Rockland, ON, passed away on Tuesday, June 7, 2022, at the age of 84. Beloved wife of Guy Pilon, the daughter of the late Aurèle Meloche and the late Dora Charbonneau. She is survived by her 5 children: Lionel (Bernadette Boivin), Chantal Collin (Jean Villeneuve), Benoit, Yves (Cecelia Kleman) and Sonia (Jean-François Surprenant); his 6 grandchildren, Joël Collin (Caroline Lacasse) and Tania Collin (Eric Cantin), Michael and Zacary Pilon, Angélique and Gabrielle Surprenant; his 3 great-grandchildren: Maléah, Kalianne, Jackson. She also leaves her brother and her sisters, Marcel (late Gaétanne David), Thérèse (Bernard Lafleur), Lyse (Dany Côté), Estelle (feu Gilles Desormeaux) as well as several brothers-in-law, sisters-in-law, nieces, nephews and friends. She was predeceased by her 2 brothers, Léo (Louise Catellier) and Gérald (Claudette Séguin). The family wishes to express their appreciation to Dr. Pierre C. Tessier for his great care and compassion. Funeral service will be held privately.
For more information:
THEO BRUNET & SONS FUNERAL HOME
2419 Laurier Street Rockland, Ont. 613-446-4691
Condolences and viewing of a Photographic Tribute at
www.brunetfuneralhome.ca
Funeral Details
Funeral service will be held privately.
For more info:
THEO BRUNET & SONS
FUNERAL HOME
2419 Laurier Street
Rockland, Ont. 613-446-4691
Condolences at www.brunetfuneralhome.ca